If you've always dreamt about rocking out alongside some of your favorite artists, you may have the chance via The Public Record. The Public Record is a music project unlike any other, where YOU can supply the music for some of your favorite artists. The project overall is still relatively new, but drummer Tommy Lee is just finishing up his latest album through the site, and country musician Shooter Jennings has just come on board to start work on his album.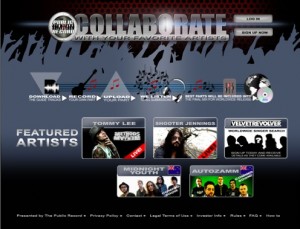 How does it work? According the site, "Simply log in, download those work-in-progress tracks into your digital audio workstation (ProTools, Logic, Garageband, etc.), record all your best ideas, and then upload them to www.ThePublicRecord.com."
In a nutshell, The Public Record is a crowdsourcing tool. The artists upload their tracks and fans get to manipulate them as they see fit. If the artist likes your version of their work, they may add it to their album. In return, you'll get a credit in the liner notes for the chosen track.
There is one major advantage to this, should you attract the attention of the artist with your skillz.         You get to tell everyone, "I laid the guitar down on Tommy Lee's album!" Unfortunately, that's as good as it gets.
First, The Public Record only features established artists, and the chance you'll get your big break is limited. Through this site, you really aren't even making original music. It's more like you're doing Tommy Lee's homework while he's the one getting to perform onstage, bringing home the fat paycheck, and living the party lifestyle. Secondly, while I understand the website is new, it's not going to win a Webby in any layout or design category. Quite honestly, the site is hideous looking. Â So much so, I'd say "Yo momma so ugly she looks like The Public Record homepage," if provoked. Read the rest of this entry »