For as long as I can remember, The Pirate Bay has been engulfed in a media frenzy over its torrent site where users can "share" pretty much whatever they wish, much to the displeasure of the Recording Industry Association of America and the Motion Picture Association of America. However, they have decided to expand on their company with the addition of  a new dating site called "Pirate Date."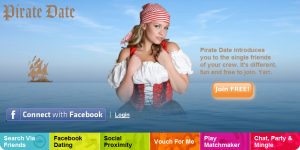 I was hoping this was a joke but after checking out the site and actually signing up (I have NO intentions of dating anyone through the Internet) it turns out that it's quite real. For starters, you fill out a short form, mainly the basics such as age and location, and then go about finding your mate. The major issue which I noted right off the bat is that there really isn't any parameters for finding  "the one" – this is more about finding anyone. Even that Apple dating site allows users to have something in common. Granted, it's their love for Apple products, but still.
The stranger part is that you can link your Pirate Mate profile to your Facebook account, something I chose not to do for fear of ridicule from my friends should they see my page. But by linking Pirate Mate and Facebook, users can directly see the Facebook profiles of potential love interests and find what the site likes to call "Trust Paths." According to The Pirate Date, they are important because:
Trust Paths show how you are connected through friends to people you find interesting. You can contact friends (and friends of friends) along the path to get opinions, advice or even ask for introductions – in other words: date a little less "blind."
In a strange turn of circumstances, Pirate Date advocates social trust, where friends can vouch for other friends through these trust paths.
Even stranger is the Social Proximity gauge that allows users to see how trustworthy other users are based on factors like their relationships between other members and the duration of those relationships. In other words, your social proximity to your best friend is probably 100%.
The poor layout of the site should be your first warning that this site is an epic fail. There are no questions of what I want in a significant other, which in itself is significant enough to count this as a poor dating site. But in the end, I doubt you'll go far with the site – just look at the image on the home screen . That alone should speak volumes about the quality of this project.