Samsung might have a smart new phone, but they somehow forgot that most people would be drooling over iPads right now. This doesn't necessarily help their "record breaking" ad campaign for the new Omnia II, but even if this phone dispensed cash, it just can't compete with Big Mac…intosh.
Judging from the commercial, this new feature may require some graceful and concise fingering…(clearing throat sound). Grazing the touch screen from letter to letter to create words. No more typing. For me this just means more time erasing. The feature tries to make sense and connect the letters you "swype." It kinda reminds me of that old T9 crap- always assuming some G-Rated word you had no intention of using. Strangely enough, I know people that – by some miracle – found this process useful. And in its infancy, it's hard to say if the swyping feature will become popular – or prove to be efficient for speedy texting.
Does the world really need faster texting? Maybe we do. Maybe if we could get a text banged out quicker we would stop fiddling with our phones and get back to socializing with the person next to us.
It's time to admit we have a problem. We religiously text rather than talk; I even used to have a voicemail that said, "hang up and send a text."  As my professional role as Whiney Hypocrite requires, I must express my total annoyance when I am in the company of someone who seems to be half-listening as they read and write texts, interrupting as I endlessly vent my latest grievances.  And I feel shameful for my own incessant texting… okay maybe not.
The evolution of connecting via text and its presence in social situations actually is a total disconnect within our actual physical environment. At some point, we are going to celebrate the days when we forgot our phone at home.
For now though, I predict that the Samsung Omnia II will just be another recycled piece of plastic and will be outdated before all the phones have shipped out from the manufacturing warehouse. Oh, Apple, how you have seduced us all. It seems like everyone I know is sporting the iPhone, just rubbing it in my face! If you don't have an iPhone, you probably have a Blackberry. But if you're me, you have this: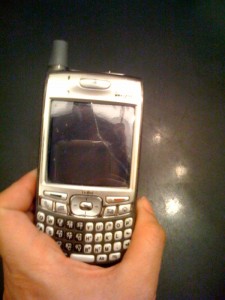 My phone has ceased to have a touch screen due to a tragic dancing incident that left the face of my phone cracked (yes, my phone can dance!). After a few more crash landings, the side of the phone was left permanently ajar, and in the last few days I have realized how much I use the letters, "B," "H," and "Y" – now that they don't work on the keypad.
I need a new phone, and although I am an avid texter, I won't be swyping anytime soon. I am ready to finally satisfy my frivolous and superficial desire to own an iPhone. There is no valid reason for my brand selection. I could get a cheaper phone. I could get one with insurance. I could get this Samsung and text novels in minutes. But like the rest of the world, I want the iPhone. So, what are manufacturers going to do to make us want what they are selling? Samsung is trying to win consumers over with the Guiness-Book-of-Records-breaking "speed texting" Swype feature. But knowing what the public wants, maybe there's an app for that???