If you've always dreamt about rocking out alongside some of your favorite artists, you may have the chance via The Public Record. The Public Record is a music project unlike any other, where YOU can supply the music for some of your favorite artists. The project overall is still relatively new, but drummer Tommy Lee is just finishing up his latest album through the site, and country musician Shooter Jennings has just come on board to start work on his album.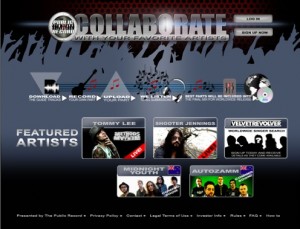 How does it work? According the site, "Simply log in, download those work-in-progress tracks into your digital audio workstation (ProTools, Logic, Garageband, etc.), record all your best ideas, and then upload them to www.ThePublicRecord.com."
In a nutshell, The Public Record is a crowdsourcing tool. The artists upload their tracks and fans get to manipulate them as they see fit. If the artist likes your version of their work, they may add it to their album. In return, you'll get a credit in the liner notes for the chosen track.
There is one major advantage to this, should you attract the attention of the artist with your skillz.         You get to tell everyone, "I laid the guitar down on Tommy Lee's album!" Unfortunately, that's as good as it gets.
First, The Public Record only features established artists, and the chance you'll get your big break is limited. Through this site, you really aren't even making original music. It's more like you're doing Tommy Lee's homework while he's the one getting to perform onstage, bringing home the fat paycheck, and living the party lifestyle. Secondly, while I understand the website is new, it's not going to win a Webby in any layout or design category. Quite honestly, the site is hideous looking. Â So much so, I'd say "Yo momma so ugly she looks like The Public Record homepage," if provoked.
If you're more egotistical (why shouldn't you be, you're a rock star) and would rather not share the internet stage with another artist, there are a few alternatives to The Public Record. My personal favorite is Bandcamp. I find the site visually stunning and easy to use for both the artist and the listener. In fact, the Bandcamp homepage shows you a video on how easy the site is to maneuver. However, it may be a little hard to search for music by genre since the artist's page looks more like a bunch of CD covers with no discernible categorization. I'm holding out hope that they'll fix that in the future.
If you're a neat freak and insist on great music that's impeccably organized, try out SliceThePie, AimieStreet, Ourstage, and SellaBand. These sites have many more browsing features and are more consumer friendly.  TheSixtyOne is also a great site that, along with displaying the cover art for the artist that's currently playing, also recommends similar songs.  All of these sites are great places to support relatively unknown bands and could be a great place for an up and coming band to get their start. Record execs are always keeping their ears to the internet, looking for the next big thing.
Of course, there is still good ole MySpace to get your music out, but these other sites allow listeners to skim through tons of artists with a media player, which may make for a better chance for you to get some attention. MySpace is better for more established artists to amass a following of fans, and to update them regarding information on tour dates, bios, and so forth.
Now is as good a time as any to get out there and get your music heard through these musical social media platforms. And for the music lovers out there, feel free to stray from your usual collection and check out some of the artists on these sites. You might be pleasantly surprised at what you find.