Facebook Sued by Five of "Their Own"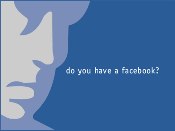 Five Facebook users have filed suit against the top social networking site, claiming that the social network exists for the sole purpose of collecting data from users and then selling this information to third-party companies for commercial use. Â The suit includes allegations that Facebook misappropriated their names, photos and personal information.
The suit was filed in California State court on Monday.
Details, Details
The suit is seeking damages for two children (under age 13), a professional photographer, an actress/model, and an "original" user from the days "The Facebook" for violating California Consumer privacy laws.
To Zuckerberg and crew, this has to be "just another lawsuit," as there have been numerous cases where Facebook and Privacy have clashed. The Terms of Use and Privacy pages for Facebook users are lengthy and detailed, meaning that no one signing up for the service actually reads them (I didn't). However, I went back and pulled out my saved copy in my safe (right…) and read it.
Under a section headed "Sharing Your Information with Third Parties," the first sentence reads "Facebook is all about sharing information…" and, not to further help make matters clear, the last paragraph reads:
When you use Facebook, certain information you post or share with third parties (e.g., a friend or someone in your network), such as personal information, comments, messages, photos, videos, Marketplace listings or other information, may be shared with other users in accordance with the privacy settings you select. All such sharing of information is done at your own risk. Please keep in mind that if you disclose personal information in your profile or when posting comments, messages, photos, videos, Marketplace listings or other items , this information may become publicly available. [Emphasis Mine]
The lawsuit reads that "Facebook has created a business model and apparatus designed to harvest as much personal and private information as possible in the easiest, quickest, and most innocuous-looking manner possible."
Maybe Facebook is a giant collector of personal information…however, when users hit the "I Agree" button, that means that they agree that their data may be used by third parties. If you don't like this policy, close your account.
Fallout
What many Facebook users do not seem to understand is that when they add an application to their profile, a screen pops up that states that a third party is going to access your, and your friends', personal information. When the user hits "Allow," this gives the application permission to access your account for information. These applications have been developed by outside entities, and if users choose to opt-in, then there really is  nothing that these companies have done wrong.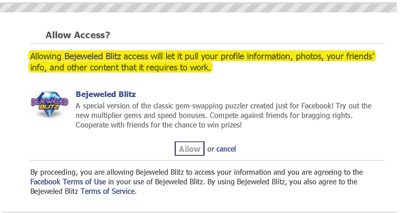 Facebook stated that they would fight the case. Who wouldn't?