We all do a lot of dumb things that one day we look back on and say, "WTF was I thinking?" For Mark Zuckerberg that defining moment may be when he changed the privacy settings on Facebook. However, the bigger issue may be the movie that is coming out called "The Social Network,"which chronicles the development of Facebook. I highly doubt he's going to be thrilled at watching himself on the big screen, especially since it seems like his privacy settings are going to be open to the public.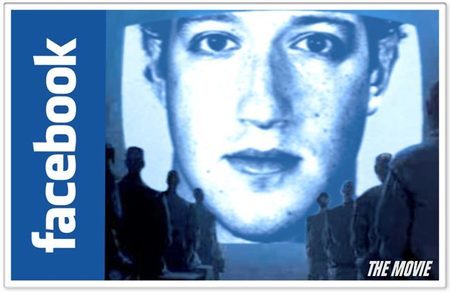 With a slated release date sometime in October of this year, it's a bit surprising that there isn't anything close to a trailer, hardly any media hype, and it sounds more like a rumor than an actual production.  But according to reports and a few grainy images (One showing rising star Jesse Eisenberg of "Zombieland" as Facebook creator Mark Zuckerberg) the move is very real.
The film is based off of the book "The Accidental Billionaires" by Ben Mezrich which chronicles the rise of Facebook and the falling out between the two creators. Ben Mezrich is no stranger on book-to-screen productions. His book "Bringing Down the House" about MIT students who counted cards in Vegas was adapted into "21." Â There is some irony that in creating Facebook, a site that brings people together, it tore two friends apart. I know what you're wondering – who was the other guy that helped found Facebook?
Answer: Eduardo Saverin. He reminds me of the other guy in the 80's band Wham!. Everyone knows George Michael but the other guy eludes me. Oh well.
This film has a rather mediocre budget at around $47 million. Aside from the awkward Eisenberg, there are  only two other well known actors in the cast, the lovely Rashida Jones from 'The Office" and "Parks and Recreation," and some guy named Justin Timberlake. When you really come to think of it, you probably don't need much media hype or well known actors to sell this movie. Facebook has over 400 million users and there's a good chance many of them are going to want to know how this internet Goliath come about and the story behind the those who created it.
In the end this is said to be a comedy-drama. I expect the comedy to be dorky kids at Harvard letting their hair loose and the drama from the struggles between the two founders. I don't see this as being the next "Avatar" but I do think there's going to be some interest surrounding it. Only time show us how Zuckerberg feels about this whole thing and if we will actually "like" this cinematic experience.