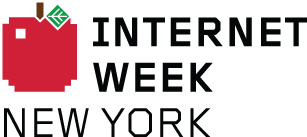 The 4th Annual Internet Week NYC starts on Monday, June 7th.  If you didn't get your VIP invite to The Webby's, there are many other ways for all of us nerds to join in the fun. Internet Week NYC, launched in 2008, is presented by The Academy of Digital Arts and Science. Anyone from big businesses to individual bloggers are allowed to attend and host events under the Internet Week banner. The week long festival has been picking up speed each year and this year has secured the massive Metropolitan Pavillion as its headquarters (note the addition of HQ at the end of Internet Week NYC) which will accommodate larger events that require interactive media space.
Webby award winning and prestigious bookmarked site, Mashable, is a major player for social media content and an all around awesome web publisher. Unfortunately, for those of us financially challenged, Mash isn't holding another free Exhibit Hall like last year's, complete with food and drink. This time around, Mashable has teamed up with CNN for their first Mashable Media Summit, a full day focusing on the impact of social media in news, branding, and advertising industries. An in-depth conference with a number of experts in social media and other mediums will speak, including  Foursquare co-founder, Dennis Crowley.  A discussion on branding will be lead by Chris Bruzzo from Starbucks. Mashable Media Summit Tickets are still available for about $500, which includes breakfast, kosher lunch, and a wine and networking closing event.
Here are some of the events that won't put a crack in your piggy bank. "The Feast" revolves around social innovation and  discussing ways to improve the world.  All Day Buffet hosts this inspiring event at "The Apartment" at 101 Crosby, 6/7 at 6:30. A handful of tickets are still remaining for a cool $20! If you want to "startup" earlier on Monday, head over to Whiskey Rebel at 2:30pm for the $15 liquid lunch event "Startupalpha.com" and the "Big Deal Room". Enjoy ice cold brews and endless popcorn as entrepreneurs get info on new technologies to get your dream off the ground. And, speaking of getting off the ground, Brooklyn Boulder climbing gym is the venue for the free "Social Climber" event. Enjoy DJs, snacks, and refreshments while seeing Internet folks get physical. Click HERE for a complete schedule of events.
The week ends with the posh 14th annual Webby Awards, which I can sum up in five words – "Damn, I want to go!" Actually, winners must sum it up in five words, which can be thoroughly entertaining. By invitation only, Sunset Cocktails are offered the day before the ceremony on top of the swank Standard Hotel. The ceremony gets started on June 14th at the beautiful Cipriani venue on Wall Street, concluded by an after party at the Hiro Ballroom at the Maritime Hotel. With attendees ranging from computer geeks to A-list celebrities, the Webby's have been going strong for 14 years and are the coveted award for web publishers in any field.
The last couple years were hosted by the hilarious Seth Meyers of SNL fame. This year will be hosted by the very funny B.J. Novic of The Office. There will still be SNL cast members on hand, including Amy Poehler, who won Best Actress for her online series, Smart Girl at the Party. Film and Video of the year award goes to musicians "Ok Go"for their impressive use of the internet for their authentic visions and superior videos. Here are all the winners so you can check out the work that got them the cherished Webby!