He's not the first overweight person to be kicked off a flight for not safely fitting in his seat. Huhhmm…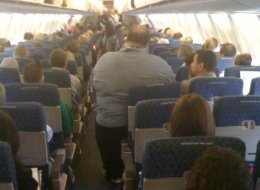 …but the rants from director/actor Kevin Smith are getting BIG press because of his minute celebrity. His endless tweeting beget the response from Southwest Airlines, a slightly-witty-titled piece, "Not So Silent Bob." If we learn anything from this fracas, it's that Southwest has a blog, and it's pretty funny. But would someone who isn't an ersatz celebrity get the media attention necessary to pounce on this as much as Babbling Bob has?
My first question is, why in sweet hell is Kevin Smith – ostensibly successful Hollywood hotshot – flying Southwest? I'd rather take a Fung Wah bus for 12 hours. Southwest is the only airline that uses a lottery system for seat assignments. Visualize pigeons squabbling for bread crumbs and you have a clear image of the gate when Southwest begins boarding. Old people with walkers and cancer kids in wheelchairs clear out for the parade of idiots who will bulldoze anybody to get to the front of the line. Once you board the plane, you can see couples taking one window seat and one aisle, hoping nobody will want the bitch seat in the middle and they can spread out after takeoff. This ridiculous seating process might be the reason overweight people should fly Southwest. The large people should trample their way to the front of the line and then when skinny fataphobes get on, they can avoid the row where the 300lb man is wrestling to lower the arm rest into his fifth wheel.
Now that we have an airline dedicated to comfortable and safe cabin travel for our pets (yes, seriously: Pet Airways), why have we not advanced airplanes to provide more comfortable travel for, ummmm, humans? Airline seats are excruciatingly uncomfortable even for a freaking contortionist. The layout of a 757 is created to maximize limited space with an ambitious amount of "functional" seating that hasn't expanded as much as Americans' waistlines.
The question is, which problem is easier to resolve, the obesity epidemic or accommodating all passengers with roomier seats? I'd pay extra to have a few more inches between me and the lady with collagen-inflated lips that just bathed in Elizabeth Taylor perfume.
So, although I would be smirking if Kevin Smith was removed from the seat next to me, his confusing but obvious popularity and his real time whistle blowing (thank you, Twitter, you adorable social media powerhouse!) has finally made the issue more public. Let's face it, size does matter, and with bigger seats, the size of airline profits might go up a few altitudes.