It is official — Alice.com is the real deal and they can definitely deliver on all the high expectations set by the amazing front end ordering experience that I reviewed in Part One.  They came through on schedule with a very prompt, very free, and very well packed delivery to successfully close out my purchase experience.
If you are just picking up this storyline now, this is Part Two of a two part review of Alice.com is a new online grocery startup that is shaking things up with a very smart business model, a system that automatically locates & applies coupons, and offers FREE SHIPPING as an alluring acquisition play.  If you have not yet read Part One of this review, it focused on a closer description of how Alice.com works as well as the online ordering experience so I suggest you read it first and then read this post so it all makes sense.
In Part One I left things off at the point where I had completed my account setup and online ordering experience.  So, let's take it from there shall we?
Confirmations
I received the typical email confirmation immediately following my order, and the following day I received another email that notified me that my order had been shipped and provided the tracking number.  Neither of these emails are groundbreaking eCommerce tactics, but they are both crucial post-purchase touchpoints to ensuring the customer feels confident about his/her order accuracy and about the status of shipping.
Delivery & Packing
Exactly two days after my online purchase, a nice blue & black box arrived from Alice.com.  The estimate at time of purchase for shipping was 2 – 3 business days so absolutely no complaints here on them hitting the low number for days to ship.  From a branding perspective, the box was perfectly aligned with the brand colors/elements seen on the website which IMHO are very nice …simple color scheme, the URL is part of the focus, short tagline & that is it.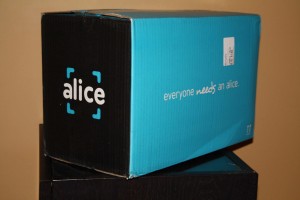 If you recall from Part One, I had ordered a strange assortment of things ranging from toilet paper to granite cleaner (…I don't make the lists, I just follow them).  I had been wondering how well they would pack all these items to make sure the heavier items did not crush the squishy ones & the liquid items did not leak everywhere.  Based on my expert assessment as a former bagger at a grocery store (…age 15, I think I lasted two months before calling it quitsville), this box was definitely packed by trained professionals.  All of the items were rendered immobile by some cool air-bag chain type packing stuffer that is also apparently environmentally friendly.  All of the liquids were placed in ziplock bags and the lids were secured shut with tape.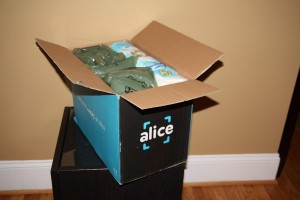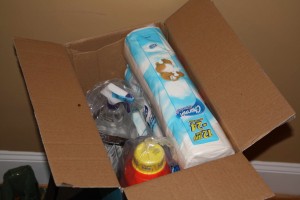 The Cost Comparison
Ok already! …so Alice.com is beautiful and easy to use and they are distribution & shipping geniuses supported by a staff of master class box packers that somehow still find the time to be earth conscious — but there has to be a catch and the only thing left is the price, right?
WRONG!  I compared total cost of my Alice.com order with two alternatives and found that it right in line with one and actually lower than the other.  The two alternatives that I considered were the traditional approach of going to the grocery store (Kroger for my test) OR using Amazon.com online grocery category.
Kroger: For the Kroger test, Alice.com ended up being $2.82 higher than the total at Kroger.  The per-item prices were so close between the two that difference can largely be attributed to the fact that there was an additional coupon for one item that was not available on Alice.com + there was Kroger loyalty program discounts.  Please note — I did not assign any arbitrary "going to the grocery store is a major pain in the A@$" penalty to Kroger or Alice.com would have won by a mile.

Amazon.com Online Grocery: For the Amazon.com test, things got confusing to say the least.  I honestly had trouble just trying to find the same products within Amazon.com to perform the test.  They appear to really be pushing the BULK buying approach because I was presented with crates-o-toilet paper and multi-packs of dental floss.  I had to hunt around for quite some time before I could find the individual items I needed.  After going through a very poor excuse for user navigation & usability, I finally tallied up the total and Alice.com was $12.49 lower than Amazon.com.
I am aware that one trial with a small amount of my very random products is definitely not sufficient to make a valid confirmation that Alice.com always is equal or lower than the alternatives.  So, to at least take this one small step further I checked my price comparison findings with a few other people as well.  I have heard from several people who shared their online ordering experience with Alice.com, and all of them told me that they found the pricing to be right in line with what they would have regularly spent at the store for what was in their cart.  So, based on all these findings I think it is pretty safe to say that Alice.com has pricing that is extremely close to what you would find in any typical grocery store.
EVERYONE needs An Alice (…especially if she ships for FREE)
So, really the name of the game now for Alice.com is acquisition.  The hook for their acquisition model is clearly the fact that they offer FREE SHIPPING for all orders.  I think there is an online shoe eTailer that used FREE SHIPPING as an acquisition hook …Zipply …Zacko …I can't remember their name offhand but I hear they turned out OK.
I think that this play will work very well for Alice.com too, and they will see a nice rate of acquisition based around this.  What will be interesting is to note the speed at which Alice.com explodes.  In the case of Zappos, they started things out 10 years ago so the WOM spread of this great online company that offered FREE SHIPPING was only able to spread at Web 1.0 speed.  Fast forward to the online world we live in today, and consider how quickly WOM about something great can spread online across such a large audience via Blogs, Facebook, Twitter, Email, etc. and I think you would agree with my estimation that it will not take very long for Alice.com to reach critical mass.
At this point I consider myself already acquired & have a high percentage of intent to re-use soon and I am pretty sure that I have my wife convinced that Alice.com may have hung the moon.
Go Check it Out
So there you have it!  Alice.com is an incredible new startup that offers a high quality solution to an unmet need …and does it for a reasonable cost.
When are YOU going to try it out?  Let me know what you think about the site.  Also, there seems to be a strange Brady Bunch Theory that is gaining popularity on just who the heck Alice is.  If you figure out the true origin of the name please comment to let everyone know.