Let's face it, going to the grocery store is a total beating! You want to know what else is a beating, realizing at the moment of need that you have run out of certain household products like toilet paper, razors, or soap (insert your own personal list of profanity inducing depleted product discoveries here).
Wouldn't it be great if there was a service that would track these household consumables and let you know in advance when you were about to run out?  Even better, what if the service would allow you to order these items online and have them delivered right to your door?  Hell, let's run with this gag for a little while longer …how about if the service had equal-or-lower prices than in-store and would automatically locate available coupons for the items and apply them to your checkout?
These are some of the same questions that the founders of Alice.com asked.  They answered by launching a new startup that does all these things and more.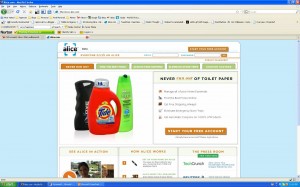 Wait a Minute…I have heard this Dot.Com story before
Since you are reading Ploked.com, you are probably fairly knowledgeable of the of Online Grocery startups that failed in the good old dot.BOMB days as well as familiar with the basic business model of the laundry list (…oh c'mon that was a good one) of online grocery shopping & delivery startups today.  The issues that plagued the early models was that they could never figure out how to cover the product costs + shipping costs and still make a profit, and the logistics for delivering perishables and cold items was trouble.  The majority of the players in this market today are trying to cover these costs by shifting it to the consumer and charging anywhere from 20 – 40% more than you would spend in the store.  From a consumer's point of view, especially in this economy …I'll take my grocery store beating & good luck with your startups.
So, how is Alice.com any different than the rest?  The complexities of their model run much deeper than this, but the basic genius in the model is as follows (as outlined on their company blog):
They cut out the middlemen and became a platform for CPG manufacturers & basically made a more direct connection between manufacturer and consumer
By creating a platform for CPG manufacturers to sell directly to consumers they created a new advertising channel that offers better targeting
They focused the product set to only household consumable products and avoided perishables & cold item grocery products
Thanks to the efficiencies of bullet 1 & 2 they can offer FREE SHIPPING
Thanks to the efficiencies of bullet 1 & 2 they can offer equal or lower pricing to what is in stores
They created an intuitive online shopping experience & superior UX that rivals the best eTailers today
They incorporated automatic couponing to your shopping experience
They incorporated a social community into the experience
This is not a couple of kids with a great idea and some programming skills.  The founders of Alice.com are experienced veterans that already built and sold Jellyfish.com to Microsoft before entering this venture.  They clearly have the industry experience & connections, the startup experience & connections, and the foresight into the social web that IMHO makes Alice.com an instant leader in this niche category (even a better than Amazon.com's online grocery offering thanks to Free Shipping) + the most viable startup to overcome the Online Grocery curse.
The Proof is in The Pudding – Putting Alice.com to The Test Part One
As we all have become with our vast online options, I am skeptical until I can see all the glorious consumer benefit promises proven.  So, for Part One in a two part article I am documenting the account setup & online ordering experience as well as a view of some of the social aspects of Alice.com.  The follow up Part Two of this article will be written and posted after my order has arrived so I can close the loop on the experience and compare prices to what it would have cost in store (ok, full disclosure …so I can have my wife compare the prices since she holds all the knowledge in that department).
After the typical account information/registration setup, the wizard takes you to begin setting up your list of typical household consumables.  There were a few items on our typical list that I could not find, but for the most part the selection was excellent.
There are multiple ways to filter your product search.  The most intuitive is By Room, but they also offer the ability to search by brand, product type, coupons/deals, as well as by just a simple keyword search.
The selected product view is excellent from a navigation standpoint (i.e. does not take you to a separate page), and all of the relevant information and action options are readily available in the options display directly to the right of the product image.
Upon proceeding to checkout I learned that part of their business model includes a Minimum Items to Checkout, however it was nice that as a new customer I was not penalized by this and they allowed me to checkout with two less items than the minimum.  Wise retention move to treat new customers with this leniency.
As long as they don't start selling Soap Opera Digest and Alice.com Life/Car/House/Pet Insurance here this actually is a helpful step.  Plus your kiddo can't start screaming for candy.
I was waiting through the whole process to see "The Big Catch"…how long it was going to take for UPS to deliver my order.  The result/findings were not bad at only 2 – 3 business days.  The total cost seemed to be on par with what we spend in the grocery store and all the coupons were automatically applied during the checkout process.  All in all, a pleasurable online ordering experience.
Some of the social aspects that Alice.com has incorporated into the overall experience include a community of other shoppers, a company blog, a community blog, and the founders blog.  I have included some screenshots of these elements below.
Typical community user profiles, online forums, live chat stream, feeds into product reviews, etc.
A community blog with content relevant to the products offered in the online store.  Most likely a brilliant branded content advertising revenue stream for Alice.com to sell to CPG partners.
Make Sure You Check Back for Part Two
So, in 2 – 3 business days I should have my meager order of toilet paper, razors, laundry detergent, and granite cleaner wating in UPS Brown on my doorstep.  Up to this point, the entire experience with Alice.com has been positive.  We will see if the delivery is on time, and passes the most important aspect the wife-cost-comparison test.  For now, the only other question I have is "Who is Alice?".