Awhile back I came across a site, Twittley.com which I reviewed in the article "Twitter + Digg = Twittley".  The site had just launched, but nonetheless, I really liked the concept.  Some time has passed and I am pleased to say that the site has made some great improvements in not only functionality, but features as well.
A New Look
If you read my previous article about Twittley, you will notice that one of my comments was about the layout of the site.  I had suggested that the site was deserving of a more "web 2.0″ look than it previously had.  Please checkout the before and after screenshots of the layout.  I think most will agree, that the new layout is alot better!
Before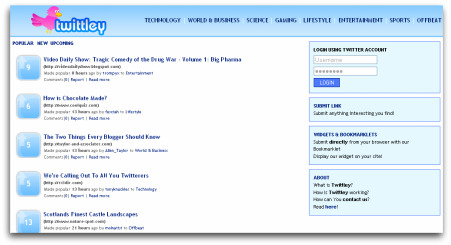 After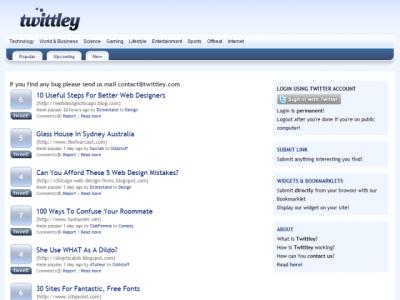 Tweet! Functionality For Your Site
One of the most notable new functionality features of Twittley is the button that you can install on any website.  You can see this in action at the beginning of this very blog post.  At first glance, you may think that this is like the "tweetmeme" button commonly found on WordPress powered sites.
However, the button created by Twittley provides more benefits to you as a site owner and as a user.  When you use the "tweetmeme" button, the visitor clicks the button and is directed to Twitter.  They then have to login to Twitter and post the message.  You have to do this everytime you use the "tweetmeme" button.  Then even after the user submits the tweet, they are left browsing Twitter and are long removed from your own site!  Do you think they are really going to come back?
With Twittley, it is different.  You only have to login once using OAuth which essentially connects your Twitter account with Twittley.  Rest assured your password info is secure via the OAuth connection.  After allowing access for Twittley and your Twitter account, the post you wanted to tweet is automatically tweeted to your account and you are directed back to the page you wanted to tweet.
If you are posting from your personal computer and are remaining logged into the sites you visit, the next time you click on a Twittley button, you never leave the page you are on when tweeting.   Everything happens in the background and gets posted to your Twitter account.
This is perfect not only for the website owner, but for the visitor as well.  As a visitor, most of us tend to have A.D.D. (attention deficit disorder) in that we get easily sidetracked online.  After a few clicks, we can't remember where we came from or know where we are going.  This is not a good thing for the webmaster of the site you originated from.  Sure it was nice of you to retweet his/her post, but what if their site had so much more to offer you?  Their site is more or less an afterthought by the time you log into your Twitter account, enter the title/link to the post and then update your status.  Once you are done with the retweet, you are left on Twitter and who knows where you will wind up next!
With Twittley, it removes this whole dilemna in that it keeps the visitor on the site of the article, retweets the message to the visitors Twitter account in the background, and allows the visitor to further browse the site of the article by not getting sidetracked into Twitter.  Who knows, maybe they will find even more great content to tweet about!
Go Ahead, Install it on Your WordPress Site
Installing the Twittley button is a breeze.  I won't go into a whole lot of detail, but you can find the codes on the Twittley site by clicking here.
Since ploked is powered by WordPress, I'll go ahead and spill the beans on how to get it installed.  Simply login to your admin panel and go to edit your theme.  Look for the "single.php" file and paste the code just below the line
so it looks like this:
Go ahead and save it and you should be good to go!  Please note that your template may require some tweaking to get it to look how you want it to.  Please be sure to backup your files!

What's Next

So what is next for Twittley?  A couple of ideas have have been talked about from what I have heard.  One such idea is the ability to follow other Twittley members which will help you grow your Twitter following.

Another really cool feature I am looking forward to is the ability to submit new stories to Twittley without ever leaving the site you are submitting from.  For example, right now, if you are submitting a story, you have to submit it from the Twittley website.  The new feature will allow for submission from the site you want to submit.

I am sure there are many more ideas that will be rolled out on Twittley, some things we probably can't even imagine.  If you have not yet tried out Twittley, you can start by clicking the "tweet" button at the top of this post.  After you come back to ploked.com, try to tweet another story and take notice how you never have to leave the site to tweet!  Pretty cool, huh?  Then be sure to stop by Twittley.com to see the site first hand.

Should you have any suggestions or recommendations for Twittley, I would like to hear them and maybe we can convince them to implement some of your ideas!